What's Happening at First Mennonite Church?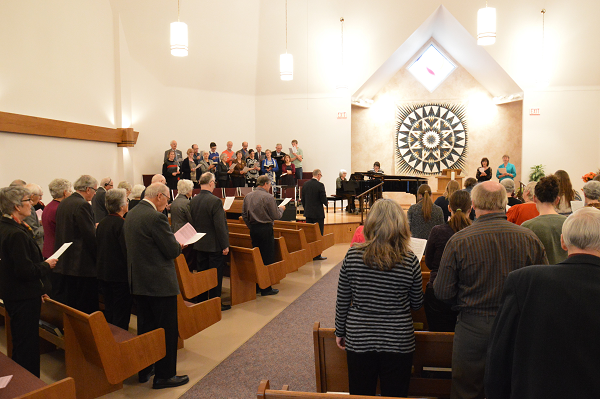 We're Hiring!
Inviting applications for two pastoral positions for a combined FTE of 1.5 - 2.0.
First Mennonite Church is excited to build a new pastoral team that works along with our church community to help us grow as a community of grace, joy, and peace. We are a multi-generational, urban church of approximately 180, with Anabaptist theology and principles guiding us. God has called us to be an inclusive, affirming, Christian community. Congregants are actively involved in church ministries and programs. The new pastoral team will share pastoral responsibilities in a manner that fits with their skills and gifts.
Full details and how to apply can be found HERE.
Solar Panel Fundraiser
We are called to be stewards of the environment, and this includes reducing our greenhouse gas emissions. By purchasing a solar PV system, we can reduce the amount of emissions we release from our electricity consumption. This will reduce air pollution and improve air quality, slow the effects of climate change, and reduce our reliance on a diminishing supply of fossil fuels. Our fundraising goal for this project is $150,000. To date we have raised $68,253.
We are worshipping with a hybrid model that includes both in person and Zoom options.
If you wish to attend in person, the doors open at 10:25 am. We encourage everyone to be fully vaccinated and to maintain physical distancing. The pews on the window side are available for distanced seating. Mask wearing is required.
If you wish to worship over Zoom, contact the church office for how to join. Our Zoom link has recently changed.
Coffee Time over Zoom
Join us every Wednesday morning for coffee via video conference.
Contact the church office for details.
Coffee Time On Hiatus for the summer.
Thursdays (bi-weekly), 2:00-4:00 pm at the church.
Coffee will be provided, please bring your own snack.
We encourage all who are eligible to be vaccinated against COVID-19.
Physical distancing of 2m is recommended whenever possible.
Masks must be worn at all times unless seated at a table and eating/drinking.